Boost your cashback to £1,000 with a NEFF venting hob
Transform your kitchen with NEFF appliances, including the powerful and stylish NEFF venting hob, and claim up to £1,000 cashback!
We are delighted to announce this generous offer from NEFF:
Claim up to £500 cashback when purchasing a selected NEFF oven along with any four other large domestic appliances as part of an overall kitchen purchase between 1st April 2020 and 31st July 2020. Include a NEFF venting hob for an additional £500.
A combination of Flex induction cooking surface with a powerful extraction makes this latest hob by NEFF a perfect addition to your new kitchen. Click here to learn how this innovative hob can transform your kitchen.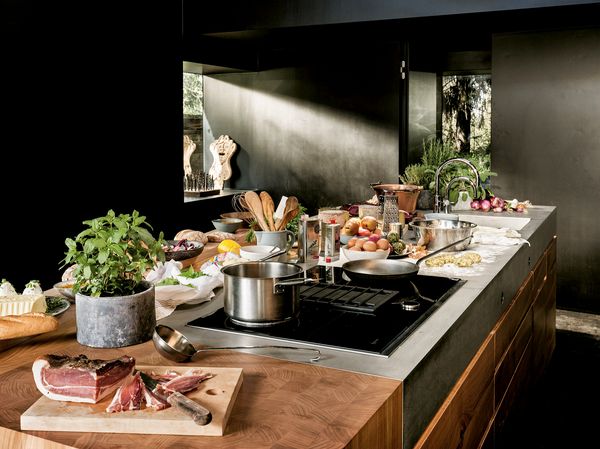 To learn more about choosing ovens and hobs here.
For full T&Cs visit www.neff-home.com/uk/kitchencashback
Remember we offer a completely free design service for your kitchen. For further information or book an appointment please contact the showroom on 01394 421214.
Showroom in Suffolk open by appointment only
We are open for business! Our Showroom in Suffolk is open by appointment only. Benefit today from a Free Personal Design for any room in your home.
We have all spent more time in our homes over the past few weeks. It's been a time for reflection on many aspects of our lives. And now, more than ever, we are feeling the effects of our home environment.
Since reopening just last week we have seen a surge of enquiries from people looking to make improvements around their homes.
From simple home study solutions and custom made bedroom furniture. To brand new bathrooms and kitchen replacements. It seems that many are now keen to get those home projects underway.
Showroom in Suffolk open by appointment only
Our kitchen showroom in Suffolk also features bathrooms and bedroom furniture. We have an extensive range of tiles and kitchen worktops. Try out the latest kitchen appliances, sinks and taps.
We offer a completely free design service. We can design from an architect's plan or carry out a home visit where we will measure and discuss your requirements. We will then prepare a detailed design and full costs for manufacture and installation.
Our Suffolk showroom is open by appointment only. Please just give us a call on 01394 421214 before you plan to come so that we can manage visitor numbers and ensure we are compliant with social distancing requirements.
To see directions, click here.
COVID-19 safety measures
In preparation for our reopening, we have been working hard adapting all areas of our business in line the latest safety advice and guidance from the government. Different guidance for safe working applies to the showroom, our workshops and working at customer homes. Changes have been put in place for our staff and customers protection.
Although it's not currently a requirement, our staff have all been provided with PPE for their additional protection and peace of mind.
For any questions about our practices, please contact the showroom and speak to Andrew Southgate.
Book a free design today
There is no charge and no obligation, so book a free personal design today.
Simply give us a call on 01394 421214 or email: info@debenvale.com
Bespoke fitted furniture for every room in your home. Tailored designs for you, for free!
Now more than ever, we are feeling the effects of our home environment. At Debenvale, we specialise in fitting beautiful bespoke fitted furniture around every room of your home. From your kitchen and utility to your bedroom and bathroom. A well designed and inviting room can create a sense of happiness and promote well being.
We offer a completely free design service for every room of your home.
Handmade Kitchens in Suffolk
The kitchen is the perfect place for families to get together. Create a multi zoned room to enjoy cooking and entertaining. A well planned kitchen will be easy to keep tidy.
Your Debenvale fitted kitchen is made with high quality materials because our kitchens are built to last. Cabinets are carefully crafted by hand. Solid drawers with dovetail joints. We use tried and tested traditional methods and high grade timber.
Cabinets are fitted with great care by our skilled installations team so you are guaranteed a swift and professional finish.
" All was very professionally executed in a timely manner by the skilled team who were, to a man, a pleasure to have on site." Capel St Mary, Ipswich
Custom made Bedroom Furniture
Every design is made to order. We will make the most of your bedroom space. Maximise storage with fitted wardrobes and matching bedside cabinets, drawers and desks. We design furniture to fit into the most awkward of spaces. If you have eaves or beams our team will use expert fitting techniques for a seamless finish.
"I am so pleased with my bedroom furniture. The fitters were polite and kept work clean an tidy. I have no hesitation in recommending Andrew and his team, 5 star." Blaxhall, Suffolk
Fitted Bathroom Furniture
For ultimate relaxation, a luxury bathroom is the perfect place to unwind at the end of a busy day. Choose bathroom cabinets in a coloured or timber finish, in both contemporary or traditional styles so that your bathroom suits your style. From walk in showers and wet rooms to roll top and jacuzzi baths, we will design and fit your dream bathroom using top quality sanitaryware, sinks and taps.
We specialise in luxury family bathrooms, ensuites and cloakrooms and our professional installation team take care of all aspects of plumbing, electrics, plastering and tiling.
"The whole service from design to completion was excellent, professional and above all it looks amazing! We have since used Debenvale for our kitchen and all three bathrooms." Chelmsford, Essex.
Browse our bathroom gallery for more inspiration.
Home Office
With so many now working from home, how wonderful it is to have a quiet space dedicated to work. With files and notes neatly organised and tidied away. And for children studying and home schooling too. Create your little hideaway with a custom made home office designed just for you.
"My home office has made a huge difference when I am working from home, its my own space to get away from distractions. Its a lovely place to sit and work." Ipswich, Suffolk
Whatever project you have in mind, don't delay. Get in touch for a free consultation and design for your own bespoke fitted furniture project.
Simply complete the attached form below or contact us by email at info@debenvale.com or phone 01394 421214.
Installing Bespoke Kitchens in Suffolk for 15 years
At Debenvale we have been designing and installing bespoke kitchens in Suffolk for 15 years. Styles and trends come and go but what we know is that having a well planned and well made kitchen is the key to creating a space you will enjoy for many years to come.
Bespoke kitchens in Suffolk
For many, the kitchen is the hub of the home and if managed well, this multi-functional space can be an inviting social space for everyone to enjoy. A well designed kitchen will have a space for everything to be neatly organised and easily tidied away at the end of a busy day.
A clever blend of cooking and dining zones creates a practical space that's sociable too for the whole family to enjoy.
Modern open plan kitchens
Bring the family together with an open plan kitchen designed with zones for cooking, prepping, socialising and relaxing.
Natural Light
Feel the benefit of natural light, flooding in through floor to ceiling bi folding or sliding doors and sky lanterns. Take in the views from your gardens and surroundings all year all round.
Timeless Traditional Kitchen Styling
A traditionally made kitchen simply stands the test of time. Your kitchen is built to last using solid woods and high quality fittings. And the shaker style is timeless too. It creates a warm and inviting space where you will be happy to spend your time for years to come.
Open Shelving
Well organised open shelving is a practical way to keep your favourite cookery books at easy reach and adds a personal touch too. Use the space to display photos, plants, candles and flowers to add to the ambience of your room.
If you are planning a bespoke kitchen in Suffolk, why not benefit from our experience? We offer a free design service which includes kitchen planning and costing for full installation by our highly skilled team.
To see more examples of our work, browse our gallery here.
To request a call back, simply complete the form below and we will be in touch
How to plan a kitchen you will love for years to come
How to plan a kitchen
At Debenvale we offer a free design service for our clients. But, if you are beginning your journey and thinking about a new kitchen then here's some ideas on how to plan a kitchen to help you get started.
Whether you are planning a kitchen extension or changing the existing space, there are many factors to consider. We have been offering kitchen design in Suffolk and East Anglia for 15 years. So, here's a summary of some the aspects that you will need to consider when planning your kitchen.
What's your lifestyle?
Its likely that you will spend a huge amount of time in your kitchen so its important to think carefully about what you are looking to achieve. Be really honest about your lifestyle and how your kitchen needs to work for you.
Are you regular entertainers? Do you need extra space that can cater for large family get together's or social gatherings with friends? Think about dining table sizes, breakfast bars and seating requirements. Do you prefer eating at low level or high?
Are you planning to spend your evenings relaxing in the kitchen? If so you'll need to create space for soft seating and if you are dreaming of an open plan kitchen you will need to be on top of clearing away after mealtimes!
Do you have pets or a young family, if not now in the future perhaps? Whether you are a young family or busy grandparents you will need to use materials that are hard-wearing and will stand the test of time. Flooring and work surfaces in particular will need to be scratch and stain resistant so that your kitchen stays as good as new for many years to come.
Your Home Style
Do you have a period property or modern home? Do you have existing features to enhance such as beams, period features or high ceilings. Your new kitchen needs to be in a style that suits your house and taste, whether traditional or modern. Create a flow from room to room with furnishings and colours that compliment each other.
Think about the style of kitchen that you are trying to achieve. Do some research, there are plenty of ideas in magazines and on websites like Pinterest and Houzz and you can collate your own ideas gallery on there. Or browse our project gallery for inspiration.
Door styles
Choosing your door style can be a great place to start. Shaker style kitchen doors are timeless and will suit both traditional and contemporary kitchen designs.
Flat doors can create a modern and clean look and can be completely free of handles and knobs.
Do you prefer clean and straight edges or would you consider adding curves to your kitchen with curved doors or a social circular breakfast bar?
Colours and finishes can be decided closer to the time but you will soon start to get a feel for your favourite colour pallets and what you works for you. A quality handmade kitchen will last for many years, and if you opt for hand-painted cabinetry you do have the option to alter the colour in the future.
Create a wish list
Put pen to paper and create a wish list that you can run through with your kitchen designer. Firstly, think about the essential appliances you must include.
Ovens and hobs
Your oven needs to suit your style of cooking and also compliment your kitchen design. Would you prefer high spec built in oven at eye height with slide and hide door or a feature free standing Range style cooker?
Do you prefer cooking on a gas or induction hob?
Refrigeration
How much fridge and freezer space do you need? Is a single combination fridge freezer enough or do you need two separate models with full capacity in each?
American style fridge freezers can also include an ice-maker and chilled water.
Storage
Are you a keen cook? Pantry units are great to keep all cooking ingredients organised in one area. You can also conceal toasters and neatly store breakfast cereals, plates and bowls in here.
Deep drawers are great for pots and and pans and there are many pull out storage systems available to provide easy access to hard to reach corners. Bespoke cutlery trays and dividers keep all your utensils in order and can be designed to your specific requirements.
If you love accessories and cook books you may want to include open shelving. Or make a feature by displaying your favourite home and glass wear pieces behind glass panel doors.
Sinks and Taps
Sinks come in a variety of shapes and sizes from single to double or with a half size bowl for draining. And materials could be stainless steel, ceramic or composite sink in a colour to suit your scheme. Belfast sinks create a classic look and gives you a large capacity for soaking trays and pans. Rinse sinks can be a great addition to an island unit for rinsing and prepping.
Taps and handles come in a range of finishes and styles to suit. Brushed steel, polished chrome, aged brass and pewter are just some of the options available.
Utility Area
Will you have a separate utility room or are you including washers and dryers within the kitchen?
Optional Extras
And for those non essentials, but great additions, consider adding the luxury items that would complete your dream kitchen. Wine storage and cellars, drinks cabinets, coffee machines, an instant hot tap or waste disposal incinerators. TV and audio equipment will also need to be included in your planning.
Extensions and alterations
There is no doubt that a new kitchen is a big upheaval and, of all the rooms in your home, its likely to be the biggest expenditure.
This is your opportunity to add value to your home and ultimately get everything exactly as you want it so you can enjoy your kitchen for many years to come. So, after carefully considering your lifestyle and making your wish list you may need to make some alterations. Consider moving a door or a window if you need to. Or if you need to enhance the space consider extending externally or by knocking through some adjoining walls to really get what you want.
At Debenvale we can undertake minor building works but for larger alterations you will need to consult a builder or architect.
Bi folding doors, orangeries and garden rooms create light and airy environments and make the most of outdoor spaces and pretty gardens.
Kitchen islands are simply great for extra workspace and storage and can often provide additional seating too. We love designing bespoke kitchen islands in all different shapes and styles using solid oak and quartztone or a blend of the two. But you will need adequate space all around.
Flooring & Worksurfaces
Your designer will advise on suitable flooring and worksurface options.
For a practical and stylish worktop, quartz stone is our best seller due to its hard wearing properties and with so many different colours and finishes it's a great choice along with natural granite. Wood surfaces give a beautiful finish but be prepared for some future upkeep with a light sand and re-oil required. Corian, laminate and glass are all other options to discuss as possible alternatives.
Stone flooring is available in tiles of all shapes, sizes, colours and finishes to suit every style of kitchen. Porcelain flooring is a popular choice for kitchen floors as its low maintenance and resists wear even in areas of heavy footfall. Porcelain flooring can give the appearance of marble, stone or even wood. A thermostatic underfloor heating matt can be installed to gently warm the tiles beneath your feet.
Lighting
Lighting is an important feature and your designer will work with you to create different moods and highlight specific areas. Consider low energy LED spot lights, under lighting on wall units, plinth lighting and pendant lighting over dining and prep areas.
Kitchen designer
A good kitchen designer will create a personal plan for tailored for you. They will include the basic kitchen design principles and create workable spaces for cooking, prepping and dining. But they will also take into account everything else you and your family needs from the space. An area for homeworking, relaxing in front of the TV or playing family games, whatever is important to you.
There are many decisions to make and its important to work with an experienced designer that will guide you through the process offering technical advise and practical expertise.
Debenvale can offer expert advice and take care of all aspects of the project, including plumbing, heating and electrics. For more extensive alterations we work alongside locals architects and building firms and can liaise directly with them on your behalf.
The beauty of bespoke…
Our workshop sits right next to our showroom where we make all our own furniture by hand. We invite our customers to take a look around and see the expert craftsmanship that goes into each and every piece of furniture that we produce.
Cabinets are rigid built by hand to your exact specification. We use solid dove tail drawer boxes and the highest quality hinges and component parts.
Our skilled installations team are professional and pay great attention to the finest of details, taking care of the whole project from start to finish.
We are passionate about creating beautiful custom built furniture and innovative designs using the latest technology and features.
We offer kitchen design in Suffolk and East Anglia.
If you need help on how to plan a kitchen, take advantage of our completely free bespoke design service, and let us help you to create your perfect room with, no obligation.
To book your free consultation, get in touch today.
"What a wonderful thing it is to have a designer who listens to everything that one is saying but is not afraid to comment and advise" Mrs Stent
Rangemaster offer! Claim up to £250 cashback
If you are planning a new kitchen this year why not take advantage of this fantastic Rangemaster offer, giving you up to £250 cashback for a range cooker and selected hood purchase. T&C's apply but just ask us for more details.
Kick start your kitchen project with one of Britains favourite brands, Rangemaster. This promotion is available now to celebrate the start of a new year!
This trusted British brand has been trading for over 200 years. The ever popular Rangmaster oven makes a real statement in your kitchen and provides a centrepiece in a variety of colours and finishes. From Cranberry to Cream, there is an option to suit your personal taste.
We offer many leading brands, including AGA Rangemaster, Neff and Meile. To learn more about oven choices and options, click here to read our blog post.
Or call into the showroom to see a range of cookers, hobs and ovens on display.
We offer a completely free design service with no obligation, so why wait? Get in touch today and let us design your dream kitchen and get your plans underway for the new year.
New year, new kitchen! But what are the Kitchen Design Trends for 2020?
Debenvale director, Andrew Southgate, has been designing luxury kitchens in East Anglia for 25 years.
So, as we reach the end of another year and look ahead to 2020, what are our predictions for the key kitchen design trends for 2020?
Colourful Kitchens
Shades of grey have dominated kitchens and other interiors over the past few years. It remains a popular choice and can be used in both contemporary kitchens and traditional style kitchens. The grey pallet has a vast range and is so easy to accessorise with.
We have seen a rise in using tones of blue. This is a great choice for adding depth and warmth to your kitchen.
However, many clients are now becoming bolder and experimenting with strong stand out colours in the kitchen such as green, yellow and pink. Last year we created a bespoke kitchen at a project in Ipswich using Little Greene Trumpet 196 and Delicate Blue 248 used on the kitchen cabinets.
More recently we made and installed a bottle green handpainted kitchen in Suffolk. Green is another colour tipped for next year. We see this trend for bold colour choices to continue to grow in 2020.
We are so excited to explore these new colour choices with future clients. We provide several samples to help you make the right choice for your new kitchen.
Dark and luxurious interiors
From the bathroom to the bedroom, clients are drawn towards the luxurious and atmospheric feel of deep and dark blues, blacks and greys. Adding texture, metals and statement tiles to complete the look.
By contrast, we are also seeing a greater choice of sanitaryware becoming available in pastel colours and shades. A modern alternative to the traditional white sanitaryware.
Energy efficiency
The focus on sustainable products is an ever growing factor in all industries. The importance of not only using energy efficient appliances and products but also the choice of materials being used in and around the home is becoming a key factor.
Smart Homes
Market leading kitchen appliance brands such as Miele and Neff have developed their products with the ability to communicate with each other and be remotely controlled. And, with the constant advances in technology, this is an area that will be constantly improved to add even more convenience and ease to our busy lifestyles.
Designer Handles
There is so much more choice now with kitchen handles. You can really make a inpact in your kitchen with an impressive designer kitchen handle.
Knobs, T Bars, Cup handles and pulls come in all shapes and sizes in a range of finishes including brass, nickle, bronze, black or even leather or fabric. We work with many bespoke handle manufacturers and have many examples in our showroom. Or we can source samples of your personal choice of handle.
No Obligation Design Service
At Debenvale, we design luxury kitchens in East Anglia and provide a free no obligation design service.
We are an authorised kitchen appliance dealer in Suffolk and work alongside market leading brands including Quooker, Rangemaster, Franke, Kohler, Perrin and Rowe and many more.
Simply call into our showroom to chat about the kitchen design trends for 2020 and how to create your dream kitchen.
Christmas Opening Hours
Its been another busy year at Debenvale and so our team are all taking a well earned break. We will be closed from today, Friday 20th December 2019 and returning on Thursday 2nd January 2020.
If you wish to contact us during this period please email us at info@debenvale.com or leave a message on 01394 421214
Case Study: Bespoke Fitted Kitchen in Felixstowe
At Debenvale we specialise in quality fitted kitchens in Suffolk and the surrounding East Anglian counties. This week we were delighted to visit one of our clients to take a look at their completed bespoke fitted kitchen in Felixstowe.
Personal Kitchen Design
Our client was looking for a modern kitchen designed for a rear extension of their home with an open plan feel.
Contemporary Kitchen Style
At our kitchen showroom our client was drawn to one of latest displays featuring a sleek handleless kitchen door with an 'L' profile hidden handle. This particular design is unique as it works well with a two tone effect, allowing you integrate a contrasting colour or material such as oak, metal or glass to your kitchen cabinets.
Our client chose a graphite grey which themed throughout the kitchen and on the insides of the kitchen cabinets too.
Luxury Kitchen Features
This luxury kitchen in Felixstowe is packed with the latest technology and appliances.
Central Kitchen Island Unit
A central island unit was essential for cooking, dining and entertaining. A Neff induction hob and powerful downdraft extractor fan sits seamlessly out of sight within the island when not in use.
Smart Storage Solutions
The space on the back wall was maximised with a tall bank of units to house 3 Neff ovens and spacious pan drawers. Our solid drawers take heavy loads of up to 40kg with high quality runners and soft close features.
We included some surface area for prep with contemporary bi fold wall units above and a neatly concealed wine storage area. All with the complimenting graphite grey internal finish.
Worktop, Sink and Tap
Luxury Quartzstone surfaces fitted throughout provide a practical and hardwearing surface with a little sparkle for a touch of glamour!
A Quooker tap gives instant filtered and boiling water from morning through to night and sits stylishly above the designer solid stainless steel sink by Kohler.
Our Client's Comments
"From our initial enquiry, it took only a week for plans to be drawn with suggested layout of the kitchen and only one item needed changing, which was the location of the wine rack. We were then able to discuss and choose appliances and placed an order straight away.
Andrew then visited the site when we had reached a stage for him to physically take accurate measurements and manufacture our kitchen. The workmanship was to an exceptionally high standard and the finished product has exceeded our expectations.
Friends and family have all been impressed with both the design and the finish and I would certainly recommend Debenvale without hesitation."
Free Bepoke Kitchen Design in Suffolk and Surrounding
This bespoke fitted kitchen in Felixstowe was designed by Debenvale, made by hand at our Suffolk workshop (which adjoins our Showroom) and installed by our excellent team.
Book a Free Design Today
If you are a looking for a new kitchen next year, why not pop down to showroom for a chat with our designers. Or get in touch to book an appointment and we will come to you.
We offer a free design service for fitted kitchens in Suffolk, Norfolk and Essex and we would love to hear from you.
We're not just about kitchens! A handmade furniture in Suffolk project featuring a floor to ceiling library wall and ladder
At Debenvale we are not just about Kitchens, we also design beautiful cabinetry for living rooms, studies and ancillary rooms around your home. We are passionate about providing practical solutions by creating well designed and quality handmade furniture in suffolk and surrounding areas.
Library wall project in Suffolk
One of our valued clients was looking for a library style wall from the floor to ceiling to display and store their treasured books, trophies, record collections and more. So we set out to create a design completely made to measure to their personal requirements, including a movable rolling ladder for ease of access to all shelves.
Practical design process
Once the design process was complete and our client happy with our design, the plans and specifications were handed across to our skilled cabinet makers who bring the design to life using high quality raw materials and solid woods. Our team of cabinet makers bring together decades of experience and take great pride in their work ensuring that each and every piece of furniture we produce is of the highest standard for our clients.
Fully manufactured at Debenvale
When the woodworking elements are completed, the furniture is then carefully finished in our onsite finishing booth with lacquer to bring out and protect the fine quality of the Oak used in this piece of furniture.
We are proud of our people and our product
At Debenvale we have a long standing team of professional bespoke furniture installers. Our friendly and trustworthy team take great and respect while working at our customers homes, keeping working areas clean and tidy and ensuring our customers feel at ease while they are working in their home.
We receive so many comments and compliments from our clients about the professionalism and attention to detail that is demonstrated by our installation team.
Want to see more? Browse our gallery for more pictures of this project and other inspiring projects.
We are an independent local business celebrating 15 years of creating handmade furniture in Suffolk this year. Whether you are looking for a replacement kitchen, made to measure wardrobes or if you have an unusual space to fill, get in touch to discuss ideas and book a free design through the link below or simply call 01394 421214.