Boost your cashback to £1,000 with a NEFF venting hob
Transform your kitchen with NEFF appliances, including the powerful and stylish NEFF venting hob, and claim up to £1,000 cashback!
We are delighted to announce this generous offer from NEFF:
Claim up to £500 cashback when purchasing a selected NEFF oven along with any four other large domestic appliances as part of an overall kitchen purchase between 1st April 2020 and 31st July 2020. Include a NEFF venting hob for an additional £500.
A combination of Flex induction cooking surface with a powerful extraction makes this latest hob by NEFF a perfect addition to your new kitchen. Click here to learn how this innovative hob can transform your kitchen.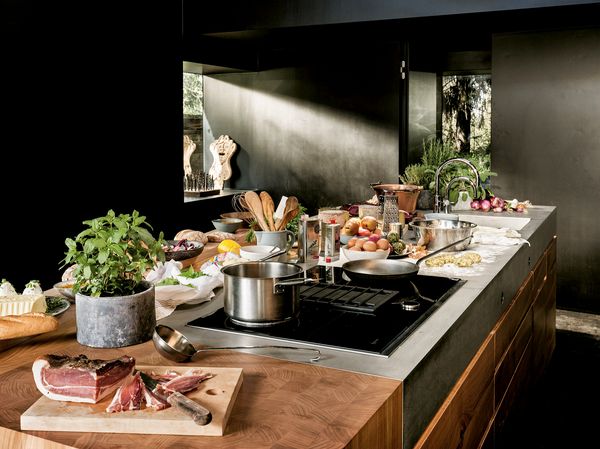 To learn more about choosing ovens and hobs here.
For full T&Cs visit www.neff-home.com/uk/kitchencashback
Remember we offer a completely free design service for your kitchen. For further information or book an appointment please contact the showroom on 01394 421214.
Rangemaster offer! Claim up to £250 cashback
If you are planning a new kitchen this year why not take advantage of this fantastic Rangemaster offer, giving you up to £250 cashback for a range cooker and selected hood purchase. T&C's apply but just ask us for more details.
Kick start your kitchen project with one of Britains favourite brands, Rangemaster. This promotion is available now to celebrate the start of a new year!
This trusted British brand has been trading for over 200 years. The ever popular Rangmaster oven makes a real statement in your kitchen and provides a centrepiece in a variety of colours and finishes. From Cranberry to Cream, there is an option to suit your personal taste.
We offer many leading brands, including AGA Rangemaster, Neff and Meile. To learn more about oven choices and options, click here to read our blog post.
Or call into the showroom to see a range of cookers, hobs and ovens on display.
We offer a completely free design service with no obligation, so why wait? Get in touch today and let us design your dream kitchen and get your plans underway for the new year.
FREE Solid Oak chopping boards included with designs given in March 2019!
Our clients love our chunky solid oak handmade chopping boards, made to order to fit your new kitchen by hand in our onsite workshop, where we make quality kitchens in Suffolk.
Our chopping and carving boards provide a sturdy surface for cooking prep. We make our boards by hand from solid oak, finished with a hardwearing and strong oil providing a hard surface perfect for cutting, chopping, prepping and carving.
With a curved overhang detail, the boards are kept firmly in place on the edge of your worktop but are not fixed so they can be moved around your kitchen as required and they look fabulous on a bespoke kitchen island unit. We suggest placing them over the pull out bin so any peelings and unused cuttings can be easily swept into the bin below.
We also offer bespoke cutlery and utensil trays, which can be made to fit your drawer perfectly and each section can be sized to suit your needs. Again, these can be made from solid oak and provides a stylish and essential accessory for your kitchen.
For ultimate luxury, speak to us about adding a luxurious fabric drawer liner to add texture to the base of your drawers and colour coordinate with your kitchen.  The liners will not only provide a durable non slip surface keep your cutlery, plates, pots and pans from sliding, they are stain and water resistant too and they really do add a final touch of elegence to the insides of your kitchen drawers.
And to celebrate the start of Spring, we are including a FREE handmade solid oak chopping board with all kitchen quotes provided in March 2019! Just mention when booking your design appointment.
Personalise your quality kitchen in Suffolk today, with a Debenvale handmade solid oak chopping board, book your free design today.
We're recruiting! – Skilled Cabinet Makers
Calling all Skilled Cabinet Makers
We are currently looking for skilled cabinet makers to join our workshop team here at Rendlesham.
Candidates must have experience in woodworking machinery and high end hand built furniture manufacture.
For more information please contact Gemma or Andrew at Debenvale on 01394 421214.
Neff Free Induction Saucepan Set Promotion
Order a Neff induction hob and claim your free set of induction saucepans.
Ask at the showroom for more info.
Neff slide and hide oven upgrade
Enhance your cooking with a free upgrade to Slide&Hide® when you buy a selected Neff oven – the only oven with the disappearing door.
Available on orders placed by 31.12.2014
Call in and see us at the showroom for more details and offers
Half price hood with your Falcon & Mercury Range Cooker and 10% off Falcon SxS Fridge Freezer
Falcon and Mercury are offering a half price extraction hood to when you buy a range cooker this Autumn.
As part of the AGA Rangemaster group, both Falcon and Mercury have outstanding reputations for professional build quality, innovative design and cutting edge styles adding a bold statement to any kitchen.
Both companies offer several range cookers in an array of colours so that you can choose the cooker that looks the part in your kitchen. An extraction hood will not only complete the look of your kitchen but is highly effective in the removal of all cooking odours.
Falcon are also offering a 10% discount from their spacious and stylish side-by-side fridge freezer
A++ rated for energy efficiency
Sleek look external door dispenser for water and ice
Digital temperature controls
Holiday mode (switch off fridge with freezer remaining fully functional)
Adjustable Spill-proof glass shelving
Fridge includes three humidity controlled crisper drawers
Super Cool – capturing freshness of Groceries
Super Freeze – Preserves nutritional value
Ice cream shelf in freezer (at ready to eat temperature)
Stainless steel top cover and plinth
Tilting freezer door baskets
Offers available until 31st October 2014, terms and conditions apply.
To discuss cookers, hoods and fridge freezers come and see an expert at our showroom. To book an appointment please call 01394 421214 or email us today